Archive for April, 2011
Wednesday, April 27th, 2011
You might have seen different programs offering natural techniques on detoxifying your body at affordable rates. There are thousands of websites that are offering such supplements and natural cures to detox your body. The question whether to sift through and spend the dough on a program out of the box or figure out how to detox your body naturally.
If you choose the former, more power to you. There are plenty of great cleanses out there. If you want to do it yourself, here's an easy method you can do at home, courtesy of the good people at eHow Health:
Drink Water
http://www.ehow.com/about_5563279_much-need-drink-clean-system.html
Eat Your Veggies
http://www.ehow.com/way_5471497_raw-vegetable-cleanse.html
Avoid Sugar, Dairy & Processed Foods
http://www.ehow.com/how_2166348_live-processed-food.html
Wednesday, April 20th, 2011
This 10-count interview is a special feature on an up and coming fighter who trains LA Boxing Costa Mesa in Orange County, CA. He'll take the ring tonight for his second professional fight after a knockout debut last month.
1. How long have you been fighting?
I did my first LA Boxing "smoker fight" when I was 18…so eight years.
2. Our members have been sharing their Day 1 moments at LABoxingDay1.com. What was the moment that got you to take that step through the doors at LA Boxing?
I played Water Polo in high school and wanted to maintain a discipline that kept me physically active. I was always a combative kid growing up, my friend told me about LA Boxing so I decided to give it a try…from the first class I was hooked.
3. You're also a college grad from SDSU. What was your training regimen like during school?
I trained at more then a few different gyms in San Diego; I was hard to find one that I really liked. I swam a lot at the school pool; I also ran the beach and the hills around campus. Most of my workouts consisted on sparring with all sorts of different partners, pro and amateur. It was hard to find consistency in my workouts without a real coach to help me out.
4. When did you begin working with Jason Parillo at LA Boxing Orange?
It wasn't until I returned to Orange County in 2010 that I started to work with Jason Parillo again, after a 3 ½ year layoff without him.
5. You just had your first professional fight on March 18, kicking off your career by knocking out J.J. Ambrose in the 3rd round. What was that like?
It felt real good…I couldn't have asked for a better turn out as a pro debut. I had a huge group there to support me and I felt like I put on a pretty good show for them. [see video below at 8:42]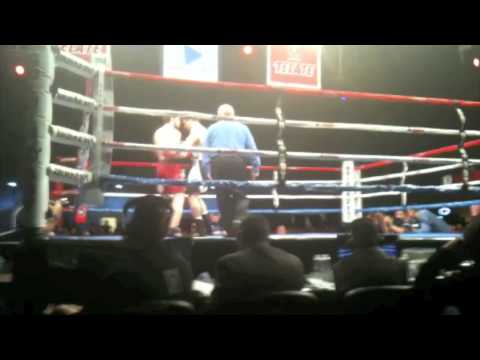 6. What was with that double-leg takedown at the end?
Instinct. I think he woke up about half-way to the floor and just reacted…he has 20 pro MMA fights.
7. What do you know about your opponent this week – Robert Lopez?
Not really anything, just his height, his record, and that he is from Stockton.
8. Have you made any big adjustments for the fight this week?
Not really, I'll make adjustments as I fight. I just work on what goes on inside my head because that is what is the most important.
9. You went into the fight against Ambrose as an unknown fighter. Are you anticipating a more challenging fight now that your opponent will have the chance to study up on you?
I think each fight will be more of a challenge then the previous. With each fight I will learn something new that will contribute to my arsenal. There are no easy fights…in the end we are both there to inflict as much damage as possible on the other. The best will walk away victorious.
10. Any last words for Lopez?
Good Night
Monday, April 11th, 2011
Martin came to LA Boxing to avoid an undesirable scenario presented to him by his doctor if he didn't do something about his sedentary lifestyle. Today he's happier and healthier than ever because he decided to take that first step through the doors at LA Boxing.
Change your workout. Change your life. This is Day 1.
Tell your Day 1 story at LABoxingDay1.com