Archive for the 'Press' Category
Wednesday, May 22nd, 2013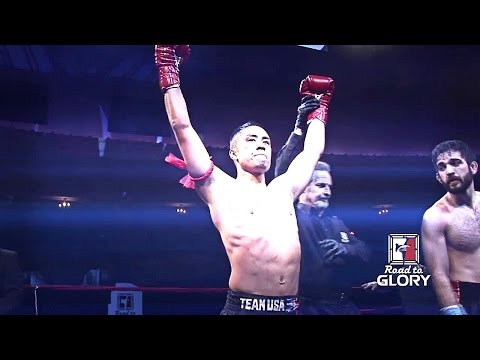 Check out LA Boxing's Dustin Johnson at the 1:00 mark.
BATON ROUGE – LA Boxing Baton Rouge's very own, Dustin Johnson, recently returned from Milwaukee after competing in the nation's most elite 8-man Muay Thai tournament, Road To Glory.
After suffering a broken foot in the second round against the very experienced and dangerous Muay Thai expert, Muhsin Corbbrey, Johnson battled through the pain but came up short on a decision loss. Showing much heart and skill between the ropes, Johnson can walk (or almost walk) proud of his performance.
The eight-man tournament awarded $20,000 and a multi-year contract with the premier kickboxing organization, Glory. The tournament included Cyrus Washington of Saginaw, MI; Shidokan Karate, boxing and Muay Thai expert Muhsin Corbbrey (pictured) of Tulsa, OK; Muay Thai champion Michael Mananquil of San Bruno, CA; battle-tested striking sensation Jose Palacios of Fremont, CA; rising star Jameel Massouh of Milwaukee; kickboxing star and police officer Dustin Johnson of Baton Rouge, LA; national and North American Muay Thai champion Ben Yelle of Marquette, MI; and six-time kickboxing and Muay Thai champion Troy Sheridan of Stouffville, Ontario, Canada.
GLORY World Series (www.gloryworldseries.com) is the world's premier Kickboxing league, producing live events across the globe featuring one-night, 16-man 'Grand Slam' tournaments and 8-man 'Slam' tournaments, which are open to only the best fighters in each of six different weight classes. The fight series also includes events with traditional, single bouts.
With television deals spanning every continent, online live video streaming of all shows and the world's largest online martial arts library, GLORY is one of the world's most widely distributed sporting organizations.
Owned and operated by Glory Sports International (GSI), the organization has offices in the UK, Netherlands, Japan, Malaysia, Singapore and the US. Its personnel include an unprecedented mix of accomplished entrepreneurs and senior level executives from the diverse worlds of finance, sports marketing, television and martial arts fighting.
In 2013, GLORY launched the Road To GLORY tournament fight series to identify and develop new Kickboxing talent in the United States, Japan and elsewhere around the globe into future champions and superstars of the sport.