Archive for July, 2011
Friday, July 22nd, 2011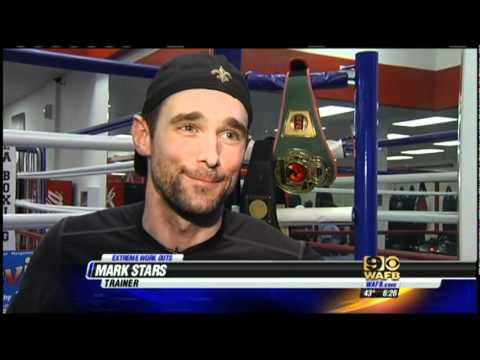 For one month Rick Portier of Channel 9 News set himself on a course to discover the most Extreme Workouts in Baton Rouge. LA Boxing happened to hit his list. Follow Rick as he enters a typical Kickboxing Class with trainer and Muay Thai fighter, Mark Stars.
Thursday, July 21st, 2011
by MMAjunkie.com Staff on Jul 20, 2011 at 1:55 pm ET
An undisclosed injury has forced Lavar Johnson (15-4 MMA, 3-1 SF) out of Friday's Strikeforce Challengers 17 event, officials today announced.
In his place steps Bellator vet Shawn Jordan (10-2 MMA, 0-0 SF), who meets fellow light heavyweight Devin Cole (18-9-1 MMA, 0-1 SF) in a main-card bout.
Strikeforce Challengers 17 takes place at The Pearl at the Palms Casino Resort in Las Vegas. The night's main card airs on Showtime.
Despite the change, Cole vs. Jordan maintains its spot on the broadcast.
Jordan, a four-time Bellator fighter, makes his Strikeforce debut with seven wins in his past eights (five of which came via knockout). Jordan, a former fullback on the LSU football team, made his pro debut in 2009.
Cole, meanwhile, looks to end a two-fight skid that followed a career-best seven-fight undefeated streak. Following a decision loss to Aaron Rosa at Shark Fights 13, he signed with Strikeforce and suffered a decision defeat to Daniel Cormier in his promotional debut.
The latest Strikeforce Challengers 17 card now includes:
MAIN CARD
Roger Bowling vs. Bobby Voelker
Devin Cole vs. Shawn Jordan
Joe Cason vs. Ovince St-Preux
Liz Carmouche vs. Sarah Kaufman
Adlan Amagov vs. Ron Stallings
PRELIMINARY CARD
T.J. Cook vs. Lionel Lanham
Ben Lagman vs. Anthony Smith
Bill Cooper vs. Maka Watson
Sterling Ford vs. Brian McLaughlin
For the latest on Strikeforce Challengers 17, stay tuned to the MMA Rumors section of MMAjunkie.com.
Thursday, July 7th, 2011
Dig writer/pugilist Holly Phillips bobs and weaves with her trainer, Calvin Miller, at LA Boxing.
(Credit: David S. Lewis)
By Holly A. Phillips
Published June 29, 2011
Dig Baton Rouge
http://digbatonrouge.com/article/learning-the-ropes-2313/
LA Boxing trainers/workout delivers power punch!
"I'm gonna f*ck you up!"
My boxing classmate was threatening the heavy bag next to me, thankfully. After all, it was only my third class at LA Boxing, a place that claims to be the only place in town to get a true fighter's workout.
They aren't kidding, either.
During my first visit, I was stunned to see an actual fighting ring in front of rows of heavy bags. It was not unlike the romanticized boxing warehouses in movies.
Manager Kody Horn, to my surprise and delight, wrapped my hands to resemble those of a true boxer – preparing me for the fight.
"Go show 'em how it's done," he said.
I claimed my bag for my first boxing class, the signature workout of LA Boxing. I was nervous. I'm not someone who enjoys working out. In fact, I haven't had a regular workout regimen in years.
So when the instructor said to jump rope for five minutes before a series of weightlifting and mountain-climbers, I knew I was in for a grueling hour.
Calvin Miller, my instructor, showed me the punches and their corresponding numbers: 1, 2 (straight jabs), 3, 4 (hooks), and 5, 6 (uppercuts).
"It's gonna be real easy," he said.
For him, I'm sure it is easy. Miller earned the Global Fighting Alliance Featherweight Amateur title for Mixed Martial Arts (MMA) last year.
Although he just started fighting professionally, Miller has been training in Tang Soo Do since he was nine years old. All of his fellow trainers at LA Boxing have similar fighting backgrounds.
During the class, Miller called out punching combinations for us to complete on the 150-pound bag. I felt at ease, despite my taped hands being balled into tight fists inside my gloves. My mind was in a zone as I punched the crap out of a human-sized target.
"Push it!" came the frequent yell from Miller. "You gotta push yourself!"
And I did. After the punching and a circuit of push-ups, sit-ups, and squats, I was sweating enough to verify the LA Boxing promise: burning 800-1,000 calories in one class.
"The workouts are intense," Miller told me in an interview. "You won't look pretty after one of those."
Miller is also an instructor for the kickboxing class – an hour that combines the punches from boxing along with roundhouse and sidekicks.
And while the classes won't fully prepare you for an organized fight, they serve as a foundation to fight training, as well as a stellar workout.
"The only difference in the classes and training for a fight is there is no situational learning," Miller said. "But you are building punching power and learning technique. The instructors teach good form; you definitely have an edge over someone who hasn't fought or been in a class."
Each instructor teaches his or her class differently, bringing yet another challenge to the workout – your body will never get used to it.
"With fighting, you can always improve. It's an art, and it's so much to study," Miller said. "That's why you see those fighters who are 80 years old. The ones that believe it are the ones who excel."
While the kickboxing and boxing classes provide an obvious appeal to LA Boxing, they also offer advanced MMA classes such as Jiu Jitsu, grappling, and Muay Thai, along with private training and kids' classes. They even cater to professional fighters.
"We have a separate training area set aside just for people looking to compete," Horn said. "The training regimen is very intense, and we cater to all types of fighters."
Since LA Boxing opened in January 2010, they've grown to almost 750 members, and have reveled in weight-loss success stories and fight victories.
"The idea is to be truly concerned about helping every member reach their fitness goals," Horn said. "When you're the best, you just know it. Everybody that steps through the door took their first step to getting results."
After just three weeks at LA Boxing – three classes each week – I can tell a difference in my figure (I'm selling tickets to the gun show) and my punching power. I definitely wouldn't want to mess with me in a dark alley. Most of all, I've learned how to work out with discipline and intelligence.
"Most people think fighters aren't intelligent; that they're tougher than they are smart," Miller said. "But they are humble and disciplined."
"Anybody can beat anybody at any given time," he said. "You can make any mistake; you have to have a zone, but it's so easy to lose that zone. You have to constantly work."